For grieving families, the photos preserve the only memories they have of their child.
FEBRUARY 18, 2020 SHARA ZHANG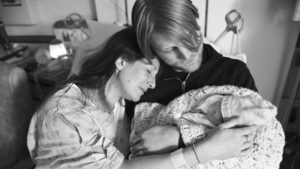 Since 1997, Todd Hochberg has been going to hospitals to photograph families after the death of a baby. These requests come at all times of day and night—more often at night, it seems, when it is a stillbirth. If he can, Hochberg will be there for the birth itself, and then in the emotional hours after as parents see and hold and even bathe their dead child while saying goodbye.
For parents, these photographs document one of the worst days of their life. But they also represent the few cherished memories they will ever have of their child. Hospitals used to whisk stillborn babies away from their parents, but they now recognize the importance of memories in grieving. Many offer photography, along with mementos such as footprints and locks of hair. Organizations such as Now I Lay Me Down to Sleep also have a network of volunteer photographers around the country.
Stillbirth affects about one in 100 pregnancies in the United States, which means that about 24,000 babies are stillborn in the U.S. every year. The cause is often unknown. Hochberg has photographed 500 to 600 families, including those whose infant died shortly after birth as well as those who lost an older child. He presents each family with an album with dozens of photos, sometimes as many as 130.
In the early 2000s, Hochberg left a corporate photography job to pursue what he calls "bereavement photography" full-time. He doesn't charge the families. Some of the hospitals he works with have found grants to fund his work. Otherwise, he relies on donations. "It's nowhere near what I made as a corporate photographer," he says. "It's certainly my life's work at this point. I don't see myself doing anything else."
A transcript of our conversation follows. It has been condensed and lightly edited for clarity.